Post Lasik ectasia of the cornea is one of the most severe complications of Lasik (Laser in situ Keratomileusis).
The Lasik procedure permanently weakens and thins out the cornea, resulting in progressive changes in the cornea such as steepening or bulging, called ectasia. Corneal ectasia results in the visual deterioration.
Keratoconus vs Ectasia
Keratoconus and post Lasik ectasia (keratectasia) are histologically two different processes. Keratoconus is a corneal disorder that isn't related to surgery and affects both eyes. It begins usually in late teenage years or around puberty. Keratectasia is a result of corneal manipulation during surgery, like Lasik. If the patient didn't have keratoconus before surgery and didn't have any family history of the disease, then the post Lasik weakening of the cornea is probably keratectasia (ectasia).
Risk factors of Post Lasik Ectasia
Most common risk factors of post Lasik Ectasia in order of significance are:
Abnormal preoperative topography
Low residual stromal bed (RSB) thickness
Young age
Low perioperative corneal thickness
High myopia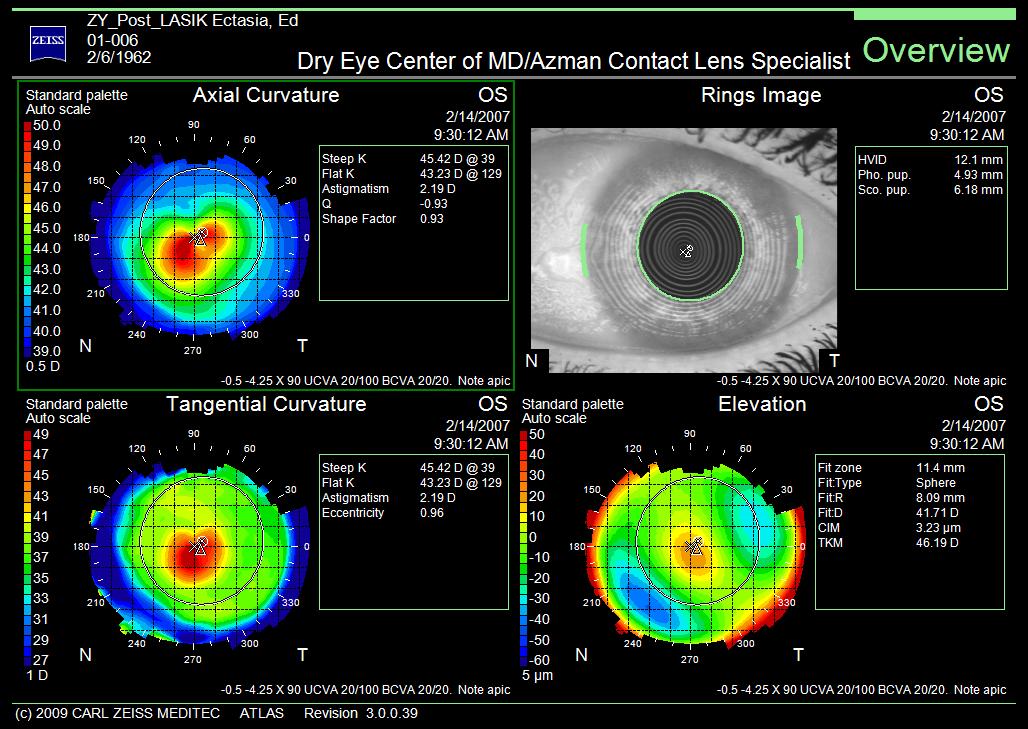 Treatment of Post Lasik Ectasia
Treatment options for post Lasik ectasia include:
Contact lenses
Contact lenses are helpful in the rehabilitation of vision in patients with post Lasik ectasia. The types of contact lenses best for the patient can be variable as per the exact symptoms and case along with patient's personal preference. Some of the options include:
Rigid gas permeable contact lenses (RGP)
Scleral contact lenses
Soft contact lenses (custom wavefront guided)
Hybrid contact lenses
Tandem soft contact lenses
Preferably scleral lenses and rigid gas permeable contact lenses are chosen for the patients. However if they are intolerant to the rigid gas permeable lenses they can be advised the tandem soft contact lenses, hybrid contact lenses and the scleral contact lenses as the next options.
Intracorneal ring segments
Intracorneal ring segments (ICRS) are used in post Lasik ectasia patients having thin cornea that can't tolerate the contact lens. The size, symmetry, location and number of segments to use are dependent on the individual case and surgeon's decision.
Corneal collagen cross-linking
The anterior thin layer of cornea is weakened during the flap creation. Most of the cross linking effect occurs in that almost 200 microns of anterior layer of cornea. Cross linking has been claimed to stop the progress of ectasia therefore corneal collagen cross-linking (CXL) can be used to stop post Lasik ectasia from getting worse.
Combination therapies
Some patients might need and benefit from the combination therapies including intracorneal ring segments or corneal crosslinking or any other combined therapy.
Penetrating keratoplasty
Penetrating keratoplasty (PKP) is used as the last resort in patients with post Lasik estasia.
Global Complex Eye Care was specifically designed, equipped, and staffed to provide patients with nothing but the finest in professional eye care. As Post LASIK specialists, we have successfully treated patients with Post Lasik Ectasia, Keratoconus, LASIK Dry Eye and other side effects, Pellucid Marginal Degeneration, Stevens-Johnson Syndrome, and other irregular corneas. Optometrists and Ophthalmologists from all over Maryland and surrounding states refer patients to Dr. Irwin Azman.
For more information please call, (240) 782-2020
to schedule your complimentary telephone consultation.